Cycling
Cycling in Tampere
There are several different cycling routes both in the city centre and outside it. As it stands, there are about 850 kilometres of pavements and cycleways from which 600 kilometres are in street areas and 250 in parks.
There are seven local main routes that lead from the city centre to Hervanta, Kangasala, Teisko, Pirkkala, Ylöjärvi, Nokia and Lempäälä. In addition to the main routes, the cycling network includes regional and short routes. The city of Tampere has its Development Programme for walking and cycling that includes 31 main steps to improve the attitudes, planning and traffic network construction.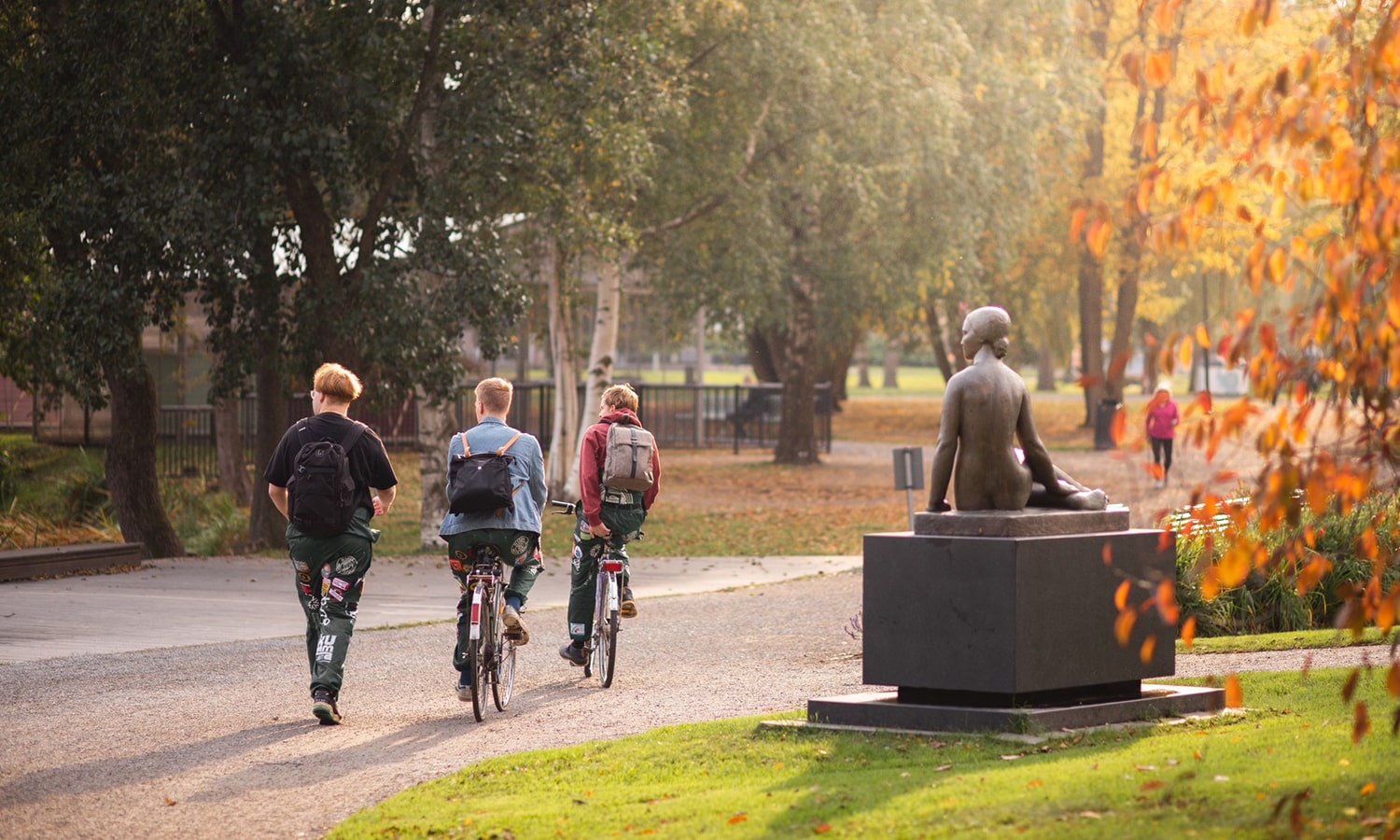 Photo: Laura Vanzo, Visit Tampere
The cycleways of the city centre have been gathered to a cycling map that can be found from the websites of Tampere and city center map which shows the alternate routes around the road work sites. The first map also includes the bicycle park locations and the city bike locations. Citybikes are easily available right in the city centre! Rent a bike with only 5 euros a day from Juvenes Kiosk Centre, at the Central Square Keskustori (by the bus stops) and the bikes will be found at the Frenckell Square. Citybikes are available from May 6th until the end of September.
You can also rent a bicycle with E.A.T. Tampere, Pyöräkauppa Keskiö and electric bikes from Pakomatkat!
Tampere also has cycle routes ment for scenery cycling. We have two big and magnificent lakes Pyhäjärvi and Näsijärvi which both you can go around, or choose either one. Enjoy amazing scenery, taste locally grown food, see culture and find abundance of beautiful finnish nature! You can also make your trip easier by cruising some of the way with Hopealinjat Boats, or use the local trains. There are many different lodging options on the Lake Trails. Campsites, farmhouses, cottages or you can also check into hotel. Remember to make reservations well in advance during the summer season. Find out more at https://pyhanasi.fi/en/laketrails-lakeland-lake-trails/ ›
Cycling in the Tampere region
The websites of the city of Tampere have map for the cycling routes in the whole Tampere region. The map encompasses areas from Nokia to Orivesi, Vesilahti in the South to Ylöjärvi and Kuru in the North. Furthermore, the sites have a map for Tampere-Pirkkala cycling routes. This map has national routes, regional main routes and other cycleways.
All the maps can also be retrieved from service centre Frenckell (Frenckellinaukio 2 B).